Meet Angela
Villalba
, owner of the Mexican Sugar Skull company in Texas who has set up a fantastic
facebook
page for sugar skull fans. I've been working with this company for just over a year now and Angela along with sidekick, Kathi are just the nicest, most helpful, friendly suppliers ever! Angela is a genuine Day of the Dead veteran visiting Mexico every year for around a month in the run up to and during the festivities to further her research for her business and currently a book she is working on. This year she is driving through five states, visiting some out-of-the-way villages in Puebla & Oaxaca. I love seeing the photos she is posting daily from Mexico as well as all the contributions from the 750 sugar skull fans from all over the world who have joined the site since its launch just over a month ago. Here are some of my favourite pics from the page so far. Hope you like them!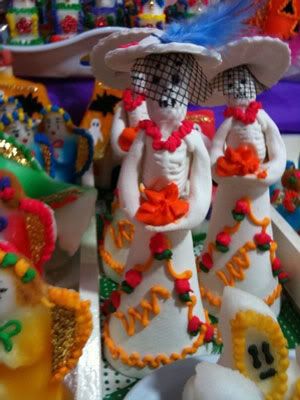 Sugar

alfinique

Catrinas

found at the Oaxaca market. Made from powdered sugar,egg white &lime juice.
Anise liquor filled sugar candies from

Ejutla

, Oaxaca. Used for the

ofrendas

of their loved ones.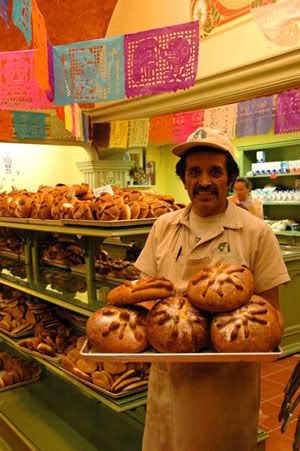 This Veracruz baker took Angela on a tour of his baking facilities. Here, he has a tray of hot Pan

de

Muerto

! His shop was decorated with skeletons, skulls and

papel

picado

banners. His bread had the traditional "bones" on top!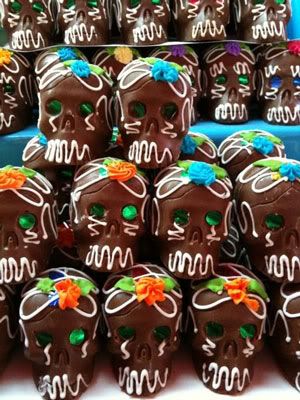 Yum! Chocolate Sugar Skulls!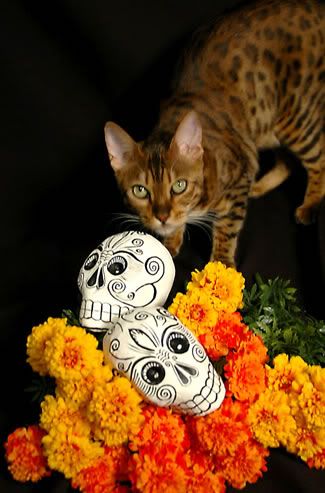 And finally, I couldn't finish this post without introducing
Tacuba
, a beautiful Bengal cat and Mexican Sugar Skull's company mascot, who (in Angela's words) is a constant "pain in the ass cat", always ready and poised to either eat or attack newly received
papier
mache
skulls. She certainly is a gorgeous Bengal cat, and I can relate to Angela's comment about her personality, I have a similarly nosey and playful puss in the house to contend with.
All photographs (c) Angela Villalba Mexican Sugar Skull.