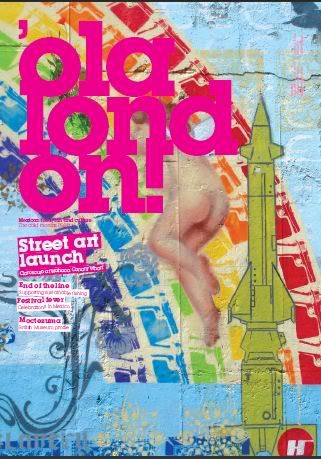 While I was up in London visiting the British Museum's wonderful Dia de los Muertos event I thought I would take the opportunity for my first visit to Wahaca, a restaurant I had first bumped into on Twitter (where else?). I must admit to having built my expectations to such a level that I was bracing myself to be slightly disappointed, being a bit of a picky eater, I tend to usually find something to complain about..but not this time. WOW! I am now totally in love with the restaurant and plan to revisit it as much as possible in the run up to my trip to Mexico in the New Year, which will result in a double bonus of a) eating lots of yummy gorgeous food and b) aquainting myself with the best of 'real' Mexican food, and in particular its street food. I took away their fab menu which doubles as a magazine full of great articles plus I filled my pockets with cute little packs of their chilli seeds, some for me and some for a neighbour who has an allotement, in part a thank you to him for the veggie goodies we get presented with throughout the growing season.

Although I loved everything we ordered(Quesadillos with black beans must be mentioned here also, OMG, think massive comfort food!) as is usually always the case, the best was left to last when I ordered their churros & chocolate, I swear the yummiest thing I have ever tasted and I rarely do desserts when eating out. A month later and I am still fantasising about it..then I stumbled on the recipe on Wahaca's website which they have kindly allowed me to publish here. You HAVE TO TRY THIS AT HOME..then go to the restaurant and see how your efforts compare. A perfect treat for cosying up on winter weekends in front of TV and something I look forward to sampling in Mexico in the New Year too. Enjoy!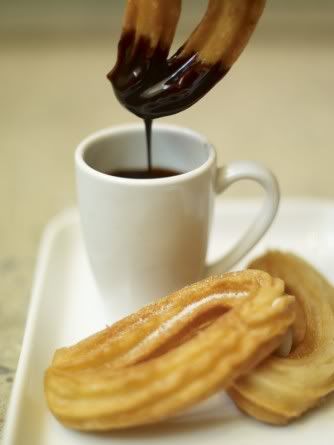 Wahaca chocolate sauce recipe

200g dark chocolate
75g milk chocolate
1 tbsp golden syrup
200ml double cream
150ml milk
A good pinch cinnamon

Mix all over a very low heat and enjoy with churros or over vanilla ice-cream.

I've never made churros before, there are hundreds of recipes online but just in case you can't be bothered to look, here's the one I have printed off. I plan to try this out next weekend, so will report back!

Ingredients: (Makes one plateful)
Vegetable or Olive Oil
1 cup water
1/2 cup margarine or butter
1/4 teaspoon salt
1 cup all-purpose flour
3 eggs
1/4 cup sugar
1/4 teaspoon ground cinnamon

Prepare to fry the churros by heating oil in a pan (1 to 1&1/2 inches) to 360 degrees F.

To make churro dough, heat water, margarine and salt to rolling boil in 3-quart saucepan; stir in flour. Stir vigorously over low heat until mixture forms a ball, about 1 minute; remove from heat. Beat eggs all at once; continue beating until smooth and then add to saucepan while stirring mixture.

Spoon mixture into cake decorators' tube with large star tip (like the kind use to decorate cakes). Squeeze 4-inch strips of dough into hot oil. Fry 3 or 4 strips at a time until golden brown, turning once, about 2 minutes on each side. Drain on paper towels. (Mix sugar and the optional cinnamon); roll churros in sugar or dump the sugar on the pile of churros.