Well, it's just one week until Dia de los Muertos festivities begin! This year I have had a real sense of this wonderful celebration gathering interest in the UK, and one of the reasons my blog has been pretty much abandoned for a month. I have been busy working with a number of people setting up special Day of the Dead events, parties and various other things including supplying some items for a Day of the Dead issue from Bizarre magazine due to hit the newstands next week. Will blog a bit more about all this during this coming week. So as well as all that, my Day of the Dead sales have really shown a huge surge from last year, particularly the fabulous Mexican sugar skull and chocolate moulds have been fantastic! Along with this I have been using Twitter a lot recently and have connected with a number of lovely like-minded Day of the Dead and Mexicana passionistas from around the world as well as the UK. And with so much global chatter going on here, I kind of got consumed in a visual feast of twit pics, facebook pages like those from
the US based Mexican Sugar Skull
and
Day of the Dead Artist Market
, some amazing
Flickr
images, Etsy treasuries and numerous venturing around some wonderful
blogs
- all offering up amazing Day of the Dead art of one kind or another.
Kind of overwhelming! My head so full of images and words that I found it difficult to work out where I belong in it all. Sadly I am not blessed with an artistic talent other than that of having a good roving eye for art produced by others, but that didn't stop me having a go at making my own sugar skulls this year and being pretty pleased with the result! I used the
large original mould
for my first attempt but I might see if I have time to make up a couple more before the weekend with the new
XL Oaxaca mould
which only came in-store last week.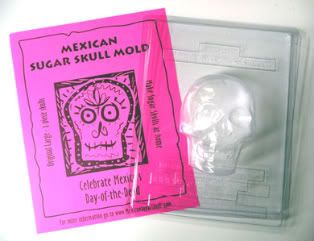 I ended up changing the mixture a little, as I didn't plan ahead, I realised Meringue powder wasn't easy to find, so I used Royal Icing Powder instead, for the decorating I just bought some ready mixed tubes of coloured icing, which was good for the day, but not perfect as this didn't set hard, so any subsequent handling of the skulls meant lots of sticky fingers and squished artwork, but the children didn't seem to mind, in fact, by the end of the day, one little girl had pretty much licked the icing off and was starting to eat the skull itself (much to the horror of her parents!).
I kept back two blank skulls for myself as I am planning to put together an
ofrenda (altar)
later this week in honour of my mother who passed away in February 2006. I am going to decorate these with glitter pens as inspired by
Rodrigvitzstyle's blog
. I have pretty much worked out what I need for the altar, and will of course share with you once I have made this up. I've asked my local florist if they can get some marigolds in, it would be lovely to have fresh flowers, especially as my mother had a fantastic flower garden she tended so beautifully, but if not, then I shall attempt to make some!
To make amends for my tardy blog posting, I plan to post daily in the coming week in the run up to Dia de los Muertos..so see you all soon. Oh, and it's not too late to join in the fun, check out my
Day of the Dead
collection in-store, despite the Royal Mail strikes, I am shipping via a couple of courier options, so you can still get some sugar skull crafting on the go in time for the big weekend. So, here are my sugar skull decorating photos, in no particular order, hope you enjoy!