I have loved stocking these wonderful Day of the Dead themed sugar and chocolate moulds and judging by sales it seems my customers love them too. Now back in store at last is the
Large Original Mexican Sugar Skull Mould
plus a couple of newcomers.
First newcomer is the
Medium Original Mexican Sugar Skull mould
, previously I just kept the more whimsical Oaxacan skull mould which has two moulds front and back of skull, but thought these were rather nice and perhaps a little easier for sugar skull newbies to make as they only have one piece. Also joining my ever growing troupe of sugar and chocolate moulds is
Frida
, she came along as the result of a specific customer request, but has been flying off out of the shop, so will be kept as regular stock in the future.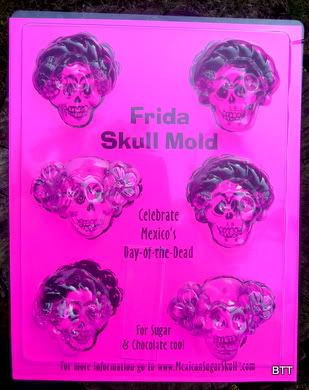 But onto the real star of the show, once again, my favourite lady, the Virgin of Guadalupe stands out. A wonderful new addition to my range of Mexican sugar moulds, a beautifully detailed 3D
Virgin of Guadalupe
mould which comes in two pieces, front and back.
Here's what my supplier has to say about the new Guadalupe mould, "Last year, when I was in Michoacan for Day of the Dead, I ran across a sugar skull vendor selling from a rickety wooden table under the arches of the town square. He had just brought in a new batch of his famous sugar Guadalupes and women were clamouring to buy them for their ofrendas! It would make a very special offering for their departed loved ones. They were iced with green or blue frosting for the Virgin's cape, golden yellow flames of the esplandor, and little gold "teacher stars" stuck into the icing of the cape. They were true works of folk art! We have tried to make a similar Guadalupe mould this year for your enjoyment... for those of you who can't go to Patzcuaro to get the real thing."
Sugar skulls are a traditional folk art from Mexico used to celebrate Day of the Dead on November 1st and 2nd. For hundreds of years, mounds of colourful sugar skulls were sold by Indian vendors in the open air village markets of Mexico. During Day of the Dead, spirits are welcomed back to their homes with beautifully decorated altars covered with wild marigolds, candles, incense, special foods and sugar skulls being the name of the person being remembered. The Day of the Dead festival is in November and I plan to write more about how to make sugar skulls a little later in the year and have my own mini workshop with some of the neighbouring kids, so for those of you interested in trying out this wonderful activity, pop back around early October to find out more.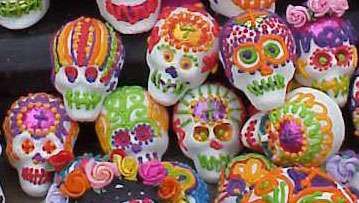 To finish off today's blog post, I thought I would include a few of the lovely photos sent in to me from an Australian customer who was designing decorations and displays for his home and cafe for last year's Day of the Dead festival. Thanks to Aaron x
This last photo is his cafe where some Day of the Dead festivities took place, note the lovely papel picado and loteria imagery he has used! I have some new Day ofthe Dead papel picado in which I have yet to list in my shop..so watch this space as I will blog about it soon. Gorgeous!