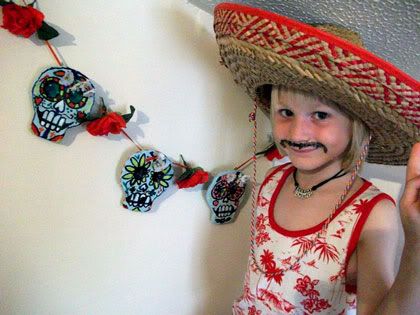 Hector, who wants to be a tattoo artist and live in Mexico when he grows up
Last week I bumped into a lovely lady called Gemma on Twitter when she sent me a tweet announcing that her son was obsessed with all things Mexican and in particular,
Dia de los Muertos
. Later she posted up a few pics of her son Hector, aged 7yrs, with some of his wonderful home crafted Day of the Dead decorations. I was suitably impressed and had to find out more and asked his mum if Hector would be interested in answering a few questions on his passion for my blog...and as you can see, he was! So, please welcome Hector, who lives in Huntingdon, Cambridgeshire - I hope you all enjoy what he has to say on his favourite subject, Dia de los Muertos.

Hi Hector, thanks for agreeing to answer a couple of questions for my blog
.
Hello! it's ok! thank you for asking.
When did you first hear about Mexico 's Day of the Dead festival?
I was asked by my teacher to do some homework about a country when I was five. I picked Mexico because I had seen mexican tattoos on my mums friends and I had really liked them. I wanted to know more about the skulls and found out about dia de los muertos. I drew pictures for my homework and wrote about the festival. Since then I have LOVED it.
Your mum says you are obsessed with Day of the Dead, do you agree?
DEFINITELY. Everything I like is day of the dead. I like to celebrate everything in a mexican style and my bedroom is mexican too. My mum has helped me make an ofrenda in my bedroom and we make tissue paper marigolds and papier mache calacas. When my two goldfish died we used photographs and made skulls for my ofrenda and I have ones that are for my great grandma and great grandad too. I like to remember them in the Mexican way. My great grandma was Spanish too so it fits even better.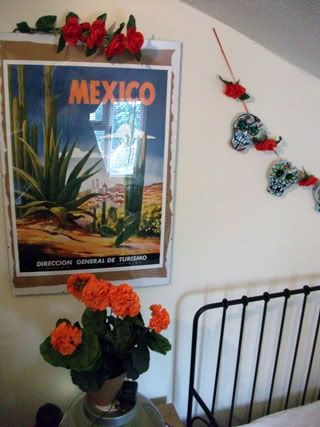 Hector's bedroom
Where do you get your inspiration for your Mexicana and Day of the Dead decorations?
I like to look on the internet and my favourite artist is José Guadalupe Posada. I also like tattoos of sugar skulls, the bright colours and the designs. My mum helps me a lot with making things - she is good at this - and i like the homemade style of mexican decorations. I like retro things and my mums collect 1960's paintings like Lynch and Tretchikoff. I also used to go to a Catholic school and I liked the candles and statues and flowers. I think this helps me like the style more. I would like to be a tattooist in Mexico when I grow up..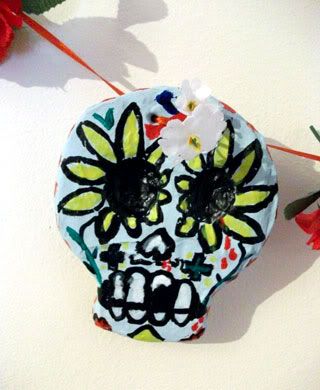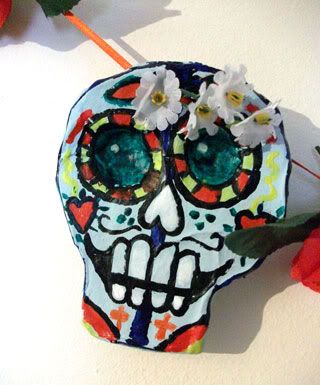 Hector's home crafted sugar skulls
Do you have any plans to visit Mexico in the future?
I would love to go. It is the best place ever! I really want to go to Oaxaca on the 30th of October to help build the altars and watch the comparsa ready for the 1st and 2nd of November. I don't think I will be able to go this year but I really want to go soon. My mums say we will go on holiday there before I am ten. I am learning Spanish at the moment so I am ready.

Do you have plans to celebrate Day of the Dead this year?
Dia de los muertos this year is more important than Christmas or my birthday. I was going to celebrate Mexican Independence day last week but I had been naughty and said something bad to my brother so my mum cancelled it. I was really upset. So I am going to be really really good so I don't miss dia de los muertos! We are building a massive ofrenda in the lounge and we are decorating the windows with candles and tissue paper patterns. My mum is baking dia de los muertos cupcakes as well as pan de muertos, sugar skulls and atole cocktails. I also love chicken mole and pumpkin and spinach enchiladas. My mum will be making me presents and mexican chocolate calacas. My grandma and grandad will visit for a family dinner and my grandma does an impression of a Catrina in a big hat, it's really funny!
el amor, Hector xxxxxxxx
What a fabulous contribution from Hector, a big thank you and muchas amor to you for allowing me to publish your story and have a wonderful Dia de los Muertos! ps. I would love to see some pics of your ofrenda when it is finished and most importantly, your grandma doing her impression of Catrina! Vida Muerte Mexicana!